Ready to use Cloud Application
Choose application based on your business needs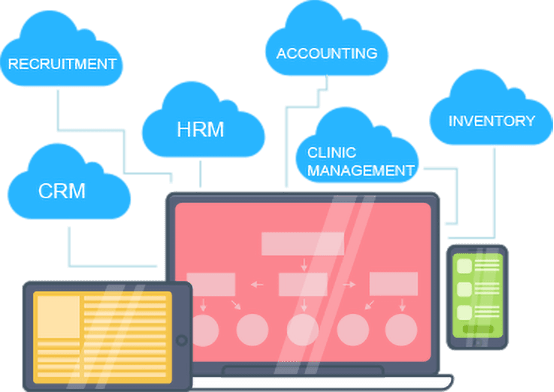 Pay as you Go.
allow businesses to pay for only what they are using and not pay heavily on un-used licensing. Provides access to expensive, high-powered software that might have been otherwise unobtainable through conventional purchasing methods.
Time and Compatibility.
No installation. Simple as having an internet connection and acquiring a log-in. It can help your business save money, time, and human resources. Eliminating problems like software maintenance and incompatibility
Scalability & Accessibility.
pay-as-you-go model provides fantastic flexibility and options. Web-based use allows subscribers to access the software easily from any location with internet capabilities from any modern devices
>
Ready to Use Cloud Application (SaaS)
RECRUITMENTFront site for candidates to apply for job
Job Categories
Job Skills
Manage Job Openings
Email notifications
Roles & Permissions
Theme Settings
Multi Languages
Custom Job Questions
Interview Scheduling
Job Onboarding
and many more...
Customer Relationship Management (CRM)Customers and leads management
proposals/estimates
Contracts management
Projects Management
Finance (Invoicing, Payment etc)
Reports
Ticketing System Customer/Employee
Internal chats
and many more...
Human Resources Management (HRM)Employees Managment
Department
Awards
Expense
Payroll
Holidays
Attendance
Leave Applications
Leave Types
Notice Board
and many more...
Accounting Double Entry Chart of Account
Journal Entry
General Ledger
Balance Sheet
Trial Balance
Management of banking
Invoices and Bills
management of revenue and payment
Multiple taxes
Many pdf templates for invoice & bills
and many more...
Doctor and Clinic ManagementDoctor Database
Prescription Management
Appointment Management
8 Types Of Login Access
Accounting
POS
Financial Reporting
Invoicing
Pharmacy Management
Patient Timeline
Lab report creation
Patient Medical History
Payment History
and many more...
Easy StoreBackend and Frontend Dashboard
Listing products and categories
Tax and assigning rates
A complete order management
Offline payment
Payment gateways with Paypal etc
Whatsapp Integration.
Offiline payment
Multiple languages
and many more...